Top Rated Local® is pleased to announce that The Computer Doctor is an award winner for computer IT services in 2019.
If you are looking for a computer IT service company that will not only fix your computer, but will also help you learn to properly care for it, look no further than this award-winning company!
The Computer Doctor has received many overwhelmingly positive reviews across four different verified sites with an average rating of 4.95 stars, earning them an impressive Rating Score™ of 98.52 and a 2019 Top Rated Local award for ranking as one of the top 100 businesses and the number one computer IT service company in Rhode Island!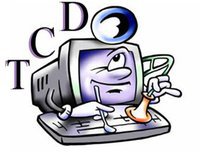 Here's just one of their many five-star reviews:
"This was seriously the best service I have ever received — period. They offered a great price, too." – J.D.
It is because of excellent reviews like this that The Computer Doctor is now able to call themselves a Top Rated Local award winner!
Not Your Average Computer IT Service Company
We were excited to learn all about The Computer Doctor and how they have gotten where they are today, so we sat down with company owner, Steve Silva.
Steve described his business as an honest place where the prices have not changed in over a decade. At The Computer Doctor, the goal is to help people and do good work. They warranty everything they do and whole-heartedly stand by their repairs. We wanted to know was what it is that makes The Computer Doctor stand apart from its competitors, and Steve told us:
"Our number one selling point is that we have free diagnostics, so anybody can bring in a computer. We'll check it out for them, run diagnostics on it, and let them know how much it will cost to fix. If they want us to fix it, we do. If not, they just pick it up. I don't know of any place that performs free diagnostics anymore. We do house calls, too. If a customer can't bring their computer in, we'll come out to them. We offer free pick up, so if someone is not mobile, or elderly, or just can't get in, we'll offer to pick it up, bring it into the shop to do the diagnostics for them. That kind of stuff makes us stand apart."
We asked if they had a specific company mission, or how they were working to make the world a better place. Steve shared that at The Computer Doctor, it's not just about fixing a computer and sending a customer on their way; it's about educating and genuinely helping the people that come to them. He said:
"We try to do some training here. We don't want them to bring in the computer with viruses, and we fix the viruses, and then they go on, and they're back in a couple of weeks with the same viruses. We try to teach them how to avoid that stuff and how to take care of that by themselves. It sounds kind of counterintuitive to sales, but we try to keep them out of here for as long as possible by educating them on what they should be doing and on stuff they can do at home to avoid the doctor."
Building Success, Online And Off
The Computer Doctor has earned a quality reputation, both online and off, so we asked Steve about some of the ways they have gotten their name out and grown their business. He said that it's all thanks to word of mouth and referrals. They've gotten those referrals by taking care of their customers. He shared:
"Happy customers will always refer other customers to you."
There are many businesses out there that are looking to build as impressive a reputation as The Computer Doctor has managed to. We asked if Steve could share any expert advice with these companies. Here's what he had to say:
"The biggest thing and the biggest compliment I get is honesty. Be honest with your customers; give them decent prices; tell them if it's something worth fixing or not; [tell them what you] would recommend or not recommend."
---
Congratulations to The Computer Doctor for being a 2019 Top Rated Local award winner, and special thanks to Steve for taking the time to speak with us!