Top Rated Local® is pleased to announce that Black Cherry Tree Service is a 2019 award winner for tree care companies in Indiana!
When it comes to tree care in Indianapolis, there's no better company to work with than Black Cherry Tree Service.
Black Cherry Tree Service has received hundreds of reviews with an average rating of 4.80 stars, earning them a tremendous Rating Score™ of 94.02 and a 2019 Top Rated Local award for ranking among the top five tree care companies in all of Indiana!
Here's just one of the many five-star reviews that got them there:
"These guys are awesome!!! They came out to give me an estimate the same day I called. Their prices are reasonable. Their crew worked like a well-oiled machine and removed four trees in no time at all; plus, they left the area spotless. I highly recommend them to anyone needing tree services. I would definitely use this company again." – Sarah L.
Not Your Average Tree Care Company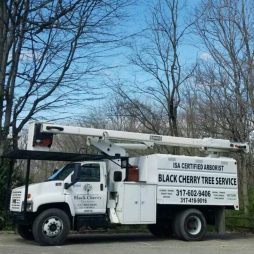 We wanted to learn what makes this award-winning business tick, so we took a few minutes to talk with Lorina Leon, the manager of Black Cherry Tree Service.
To kick off our conversation, we asked Lorina about what makes Black Cherry Tree Service unique compared to the many other tree care companies in Indiana. Lorina told us that their customers choose them because they offer free estimates.
We also asked Lorina about the Black Cherry Tree Service mission and how they work to make the world a better place. Lorina shared with us that they have a lot of storm damage in their area, and their goal is to provide their clients with faster, more affordable tree care services after disaster strikes.
Building Success Through Organic Reviews
Lorina credits Black Cherry Tree Service's strong online reputation to the service they offer and told us that people leave reviews on their own; they do not ask for them.
Outside of building a powerful online reputation, Black Cherry Tree Service has grown through referrals.

---
Congratulations to Black Cherry Tree Service for being a 2019 Top Rated Local award winner, and thank you so much, Lorina, for taking the time to speak with us!
We highly recommend Black Cherry Tree Service in Indianapolis. Visit their website today!