These days, it's not enough just to have a website; you need to make sure that your website gets found!
Ensure that your local business gets found
Having a website is a must for any local business in this day and age. People search for just about everything you can think of online, and that's not a trend that will die down any time soon.
However, simply having a website is only the first step toward success; you also need to make sure that your website will be found. It could even be argued that, if your website isn't among the top search results for relevant keywords, it might as well not even exist.
According to searchenginepeople, around 75% of clicks go to the first page of results in organic searches, with 33% going to the first position, 15% going to the second position and 9% going to the third position.
SEO is a vital part of reputation management.
If you've read many of our Top Rated Local® blogs, then we don't need to tell you how important your business's online reputation is to your success, and you may be wondering where SEO (search engine optimization) ties into it. The truth is that SEO and reputation management go hand in hand, and you can't really have one without the other.
Did you know that customer reviews can actually help you rank higher in the SERP (search engine results pages)? Did you know that claiming and optimizing your listings can help to improve your rankings as well? Did you know that, while you can't always control what other people say about your business online, you can work to ensure that the top search results for your business name are your website and social media pages instead of negative press?
Start taking control of your business's online reputation by implementing a local SEO strategy.
5 beginner SEO tips for local businesses
#1. Get started with Google My Business.
The first and most important thing a local business can do from an SEO standpoint is to create their listing on Google My Business, and then to optimize it.
Your Google My Business listing is what ensures that your business ranks in the maps result for local, "near-me" searches.
This is incredibly important for any local business, but especially for those that have brick and mortar locations where clients or customers can visit you, like flower shops, restaurants, jewelry stores, etc.
Your business's listing on Google will often be the first thing prospective customers see when they come across your business online, so in addition to creating a listing on Google My Business, you also need to optimize your listing.
Optimizing your Google My Business page means adding photos, posting about upcoming events and promotions, updating your business information, gathering reviews and making your page as complete and as active as possible.
What if there's already a Google My Business listing for your business? Don't worry; this sometimes happens. And as long as you have the authorization to manage the listing, you can request that the ownership be transferred through Google.
#2. Create and/or claim listings on local directories and review sites
The more websites your business is listed on, the more exposure your website — and your business — will get. Plus, when your contact information is listed accurately and consistently across many different websites, it ensures that your customers are able to get ahold of you when they need to, and it will help to improve your website's standing in the rankings.
When you go to create a listing on sites, like Top Rated Local, you may find that a profile or listing already exists. If that's the case, it's advisable to claim the listing as your own. This will allow you to update the contact information, respond to any reviews you get on the platform and, on some websites, to write a few words about who you are and what you do.
Consistency across listings will also help to build trust with prospective clients, and it makes it easier to get reviews from your clients because they'll have a higher chance of already having a profile set up on a site you're listed on.
Does the idea of updating listings across a plethora of directories and review sites seem daunting? Luckily, there are plenty of citation building services out there that can simplify the process for you, like Marketing 360®'s Listings app, which will help you easily get your business listed on more than 50 local directories, sites and apps.
#3. Publish local-friendly content on your website
If you're not new to our blog, then you've probably seen the phrase, "Content is king," more than once. That's because, in terms of SEO, absolutely nothing beats consistently publishing quality content on your website. And when you want your business to rank locally, it pays to learn how to write local-friendly content. Here are a few local-friendly blog topics you could write about:
Customer case studies and success stories – If you have a great success story with a happy client, ask them for permission to share it online! Case studies are an amazing way to show off how much of an impact your service or product can make for real-life customers and you can add in the local flavor by adding in relevant details about the location.
Volunteer work and local causes – Giving back will not only make you feel good; it will make you look good, too. And, it makes for great, local content because it helps you demonstrate your love for your local community.
Local partnerships – Lots of businesses could benefit from partnering with other local businesses. For example, a pet groomer may partner with a veterinarian to get referrals, or the other way around. If you partner with any local businesses, it will make a great, local blog topic.
#4. Don't skip the on-site basics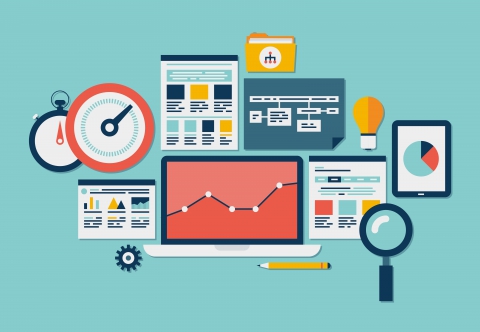 Setting your website up for SEO success is a little more involved than you might first think, but it will be worth it.
These are called the on-site basics, and they consist of a variety of small, on-page tasks to improve your website's ranking. Here are a few of the on-site basics you should complete on your website for a better ranking in the SERP:
Optimize title tags and meta descriptions – Title tags and meta descriptions are what people see in the SERP when your website comes up. Optimizing your title tag and meta description with your location (or the areas you serve) will help to improve your rankings in the SERP, as well as your click-through rate. Did you know that pages with meta descriptions rank an average of 5.8% higher than pages that don't?
Add alt image tags to your photos – Part of mastering SEO includes getting as many keywords onto your website as you can, and adding alt image tags to your photos could give your business a small bump in the rankings.
Have a unique page for each location – Does your business have multiple locations? If so, it's important to have a unique page on your website for every individual location.
#5. Build links to your website
The more links that point to your website, the better, as link building will help to improve your business's rankings in the SERP. This is another reason why it's important to get your business listed across a variety of directories and social media sites. Here are a few tips to help you build local links that point to your website:
Utilize your partners – If you partner with other local businesses, this is a great opportunity to get some links pointed to your website. Reach out to the local businesses you partner with, offer to promote them on your website and ask that they do the same.
Sponsor organizations and events – Most organizations and event planners will publish information about their sponsors with links to their websites.
Send out press releases – If you've got an announcement, creating a local press release is a great way to spread the word about it, and as a bonus, you'll get a host of new links pointing back to your site.
Write some guest posts – As a business owner, chances are, you're a subject matter expert in whatever industry you're in, which means that you have a lot of knowledge to share. Offering to write guest posts for local bloggers with an audience that might be interested in what you have to say is an excellent way to flex your writing skills and gain some links for your business.
Get listed or claim your listing with Top Rated Local!
Now that you know the importance of getting listed and how it can help improve your business's rankings in the SERP, it's time to create/claim your Top Rated Local listing today! Learn more about the benefits of becoming a Top Rated Local business, and sign up for free!
Originally published 11/23/19