Claim your business listings
Claiming your business listings online is going to be step one of your New Year's Resolution to have a stronger online reputation. Many people overlook this vital task because they don't realize how important having a claimed business really is.
When you claim your business, you are showing your customers, current and future, that yours is a reliable and authentic business. The fact of the matter is, more and more customers are searching for local businesses online, and ranking ahead of your competition is very likely going to be what makes or breaks their decision to choose your business over any other.
Think about it, when a customer is going online to search for a business, but ends up finding an unclaimed business profile with inaccurate information, like their phone number, address, or business hours, they're not likely going to trust that business with their time or money. Claiming your business and making sure your information is accurate and up to date is really simple considering how important an outcome doing so has. In fact, according to research done by Google, three out of four shoppers who find local information in search results to be helpful are more likely to visit stores in person. Thankfully, claiming your business listing is also usually free.
Claiming your business listings doesn't only show your potential customers that you are a reliable business, it also gives search engines a reason to trust you and give you a better ranking. Search engines look for and promote legitimacy. By claiming your business, you not only show search engines that you are legitimate, but you also help boost your SEO (search engine optimization) and the likelihood of your business being seen more frequently. By claiming your business on verified sites, you improve your chances of increasing traffic to your website by making it more accessible and easy to find.
Claiming your business profiles should be one of the small business basics, and since claiming your businesses is such a simple way to get the attention of customers and search engines, it's surprising that more small businesses don't prioritize the practice, but that just means that a business that does claim its listings is going to stand out among the crowd.
Build Your Online Presence
When you search for your business on Google, take notice of what comes up. How does your website look? Are there reviews for your business? What kinds of photos are there? Is your website mobile-friendly? What about social media? Which social media profiles are your target audience likely active on? Are you easy to find there? Making it simple for your target audience to connect with you makes your business appear accessible and personal, which is important when it comes to building trust and showing your customers that you are reliable.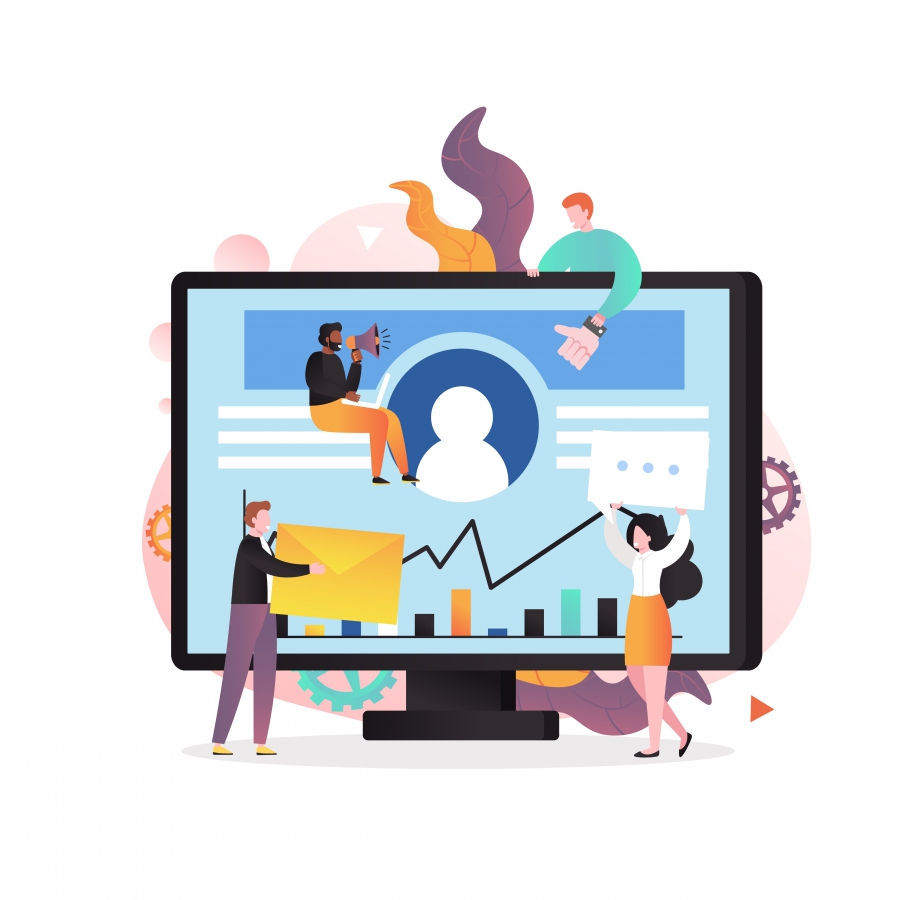 Your potential customers need to be able to find you, and when they do, you want them to be impressed by what they see. Start by investing in an awesome website. Your website will be many customers' first impression of you, and no matter what business you are in, you will find that an eye-catching and professional website will be beneficial to your business.
Even a company that has traditionally operated by word of mouth, like tree removal or lawn care, can benefit from having a nice, up-to-date website. Your website can tell your customers your story, humanizing your business; it can showcase some of your favorite reviews, giving customers a reason to trust you, and it can give your customers the basic information they need, like your address, hours, phone number, and pricing options.
Too often, businesses that have gotten by thanks to word of mouth have lost out on potential new customers because so many people are turning to the internet to find new local services. In fact, the number of local searches is on the rise, with 46 percent of all Google searches being people who are looking for local information and 82 percent of smartphone shoppers using the phrase 'near me' in their searches, a number that has increased 900 percent in the last two years.
You need more than to simply be present; you need also be active in order to have a strong online presence. That means updating your website and social media pages with new photos, current reviews, blog posts, and updates. Always respond to your reviews, both positive and negative, in order to show your customers that you care about their experience with your business.
Ask for reviews
Just like having a great website, having a handful of reviews on verified websites is crucial to the overall success of your business. Reviews are a vital tool when it comes to generating trust and increasing your overall sales.
Nowadays, almost everyone is turning to the internet to do their research before making their purchasing decisions. Customers can turn to websites, like Google, Bing, Facebook, and Top Rated Local, to read about the experiences of past customers. While each of these sites has its own way of collecting and prioritizing reviews, reviews left on any of them will count as fresh content in SEO algorithms. Reviews will end up helping your business ranking by improving your overall SEO since fresh reviews count as fresh content, which search engines tend to like.
In addition to helping out with your SEO, reviews can also help you to connect with your customers. Your customers will naturally have some feedback for you, and their feedback is undoubtedly going to be incredibly valuable to you and your business, whether it is positive or negative. Positive reviews offer a great incentive for others to trust you with their business, and negative reviews offer you some insight into where your business might be slacking. Negative reviews also give you a chance to show others how you would like your business to be seen. For example, if you receive a negative review, you can respond to it, showcasing your responsiveness as well as your willingness to receive feedback. In your response, you can highlight some of the things you hope your business will be known for, like:
"We're very sorry you did not get a chance to experience the outstanding customer service we hope to provide to every person who visits us…"
Customers like to see that someone will be attentive to their needs if anything goes wrong, and the fact of the matter is, they are more likley to trust a business that has had a few things go wrong. When they see only five-star ratings, they start to become suspicious that the feedback may not be authentic. A sprinkling of less-than-perfect reviews with well-worded and thoughtful responses is more likely to inspire trust in potential customers than a hundred bland five-star reviews.
Knowing how important it is to have online reviews, you should also know that there is absolutely no shame in asking for them! Chances are, you really do value and appreciate honest feedback, and there is no reason not to say so to your customers. As long as you are not paying for or somehow incentivizing people to leave you feedback, you can be confident that you are acting ethically in your request for reviews.
Revamp your customer service policies
Now is a better time than ever to make sure your employees are all on the same page when it comes to the kind of customer service your business offers. Establishing some customer service basics, a set of values, and even an overall business mission can unite your staff and help to set the baseline for how to behave with the customers.
Having a solid foundation in excellent customer service is a surefire way to gain the kinds of reviews that will instill some trust in your business.
Your customer service skills need to extend into your online presence as well. If you have multiple employees responding to reviews, posting to your social media pages, and interacting with your customers online, you need to have a unified voice that you feel best represents your company. It might be beneficial to start out by having a few templates for responding to customer concerns or negative reviews.
Consider Getting Outside Help for Online Reputation Management
Taking on the responsibility of managing your online reputation may seem daunting and could take more time than you have to invest into it. For many companies, the role of online reputation management is a full-time job. While most small businesses don't necessarily have the budget to hire a full-time staff member to perform these duties, many are turning to reputation management companies.
If outsourcing your reputation management is something that appeals to you, make sure you do your research and find a company that feels like a good fit and can perform the job you want done. If you are interested in learning more about reputation management and its benefits, check out Top Rated Local, today!